​​
Introduction to Selah Havanese over the Generations:


We are pleased to introduce you to the generations of Selah Havanese.  Not all of our dogs are represented on our Girls or Boys page, as that is reserved for our current and/or upcoming show and breeding potential dogs.  As we are so very proud of all of our dogs, we would like to have a page just for those who have given so much love to our family and provided a wonderful foundation for our current dogs to continue from. 

Each of these dogs own a portion of our heart and we are dearly devoted to them, even after they have moved on to new loving forever homes, or reside a retired life with us.  Their value is in who they are and the love they provide, not in their breeding ability.  Each of our dogs are part of our family and are loved beyond measure.   Unfortunately, in order to continue  breeding and still be able to maintain all of our dogs in our home as family members, we must accept that we also need to allow some of our dogs to go and share their love and joy in other families.  It is a very difficutl and heartbreaking decision and process.  We only place our beloved family members with family, good friends, and previous puppy buyers who are looking for a beloved adult dog.  We never place them with families we do not know and trust.  While it breaks our hearts to part with them, it brings us joy to see and hear how much they are loved by their new families and how easily they adapt and become an intigral part of their new families lives.  So, while some remain here with us forever, we also acknowledge that in order to breed responsibly, we also need to allow some of our dogs to be loved by other families and not hord them all to ourseleves.  It's a difficult process and is never taken lightly. When each of them walk out with their new families, a piece of our heart leaves also.  We are ever thankful for each family who loves on these precious ones because as they do, they are also increasing the love within our own hearts.

Please enjoy learning about each of our beloved family members and perhaps you will find some of the dogs found in your puppies pedigree also.  It's always fun to learn more about your puppies relatives.  All of the dogs below have passed their health testing and have been an amazing part of our breeding program as well as a very loved part of our familiy.

Generations of Selah Havanese


In order to preserve genetic diversity among our lines, we chose to begin with three separate female lines. This was done intentionally as we feel genetic diversity is a critical element in maintaining health in all canine populations. The most recent research verifies that genetic diversity and health are directly correlated, thus, in addition to health testing, assuring diversity in pedigree and genetics is another step we can take as breeders to do our best to breed as healthy puppies as possible.  

We have also taken the extra expense and effort to run a DNA panel on all our dogs to check their DNA and select for diversity at a genetic level also. There are no guarantees, however, but by taking as many precautions as possible, based on the newest technology and research, we can work toward assuring the Havanese remains a happy, healthy companion for the years to come. We are thankful to have paired with many other breeders to make this adventure together, both in securing our foundational females, and in the addition of each of our wonderful males, both from the US and imported from abroad. Without working together, breeders cannot make progress in maintaining the breed. 

Please welcome below our Foundation females, they are the very foundation of every Selah puppy.

We are pleased to introduce you to the generations of Selah Havanese.  Not all of our dogs are represented on our Girls or Boys page, as that is reserved for our current and/or upcoming show and breeding potential dogs.  As we are so very proud of all of our dogs, we would like to have a page just for those who have given so much love to our family and provided a wonderful foundation for our current dogs to continue from. 

Each of these dogs own a portion of our heart and we are dearly devoted to them, even after they have moved on to new loving forever homes, or reside a retired life with us.  Their value is in who they are and the love they provide, not in their breeding ability.  Each of our dogs are part of our family and are loved beyond measure.  

Please enjoy learning about each of our beloved family members and perhaps you will find some of the dogs found in your puppies pedigree also.  It's always fun to learn more about your puppies relatives.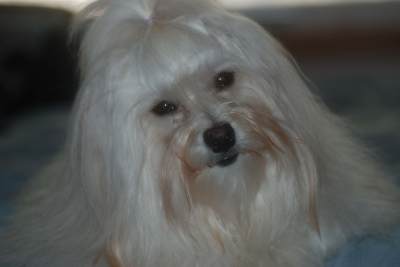 Multi CH Camelot's Jewel of Ancient Path ~ Jewel
Jewel is one of our foundation females. While she is retired we didn't want to miss the opportunity to introduce her. She was our second Havanese, and our first foundation. She has earned herself three championships, and was the number one UKC Havanese in 2006. Jewel is 9" and 9lb. Jewel is 14yo and is still in perfect health, she just gets better with age. Jewel is a fine Gem! She is often called Jewelsie Pie, as somehow all of our dogs end up with nicknames. Her daughter Pneuma carried down her lines and now her great granddaughter Denali is proving to continue to produce healthy, happy, and a bit silly puppies. We love our Jewel! Jewel is the devoted companion to my daughter Amanda.
​​
CH ERAS True Blue Forget-Me-Not ~ Trista



Trista is also retired, but we wouldn't want to leave her out. She is our second foundation female, and is lovingly often called Baby Triss. We had an unfortunate turn of events that lead us to retire our original Havanese and all of her offspring, thus ending her line, so we needed to start over with a new line. Thus entered Trista into our lives. She comes from generations of health testing. While Jewel may add the sweet and silly to our lines, Trista adds the smart and confident and now her great granddaughter Ivy is filling her paw prints. Trista remains my constant companion and a spoiled brat as always!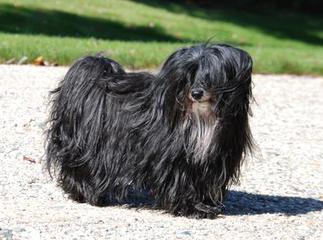 ​​

Jr CH Hurricane Ridge's Heart Song of Selah ~ Melody
Melody is our third foundation female, often lovingly referred to as Mel Mel. We were thrilled to add this lovely girl and her Hungarian pedigree to our breeding program for greater diversity. She comes from generations of health testing which is very important to us as we strive for the healthiest puppies possible. Melody has produced some very lovely puppies, including our beautiful Harmony , Maui, Jag and Mateo.  And now her genes will be passed along through Jag,  Lacy (Jag daughter) and Nahanni (Mateo Daughter) and River ( Mateo daughter).  It's alll in the family!  Melody is quite a tomboy, despite her lovely looks. She adds a bit of spunk to our lines along with a dash of sweetness, as she is a very sweet girl who gets into a bit of mischief. Melody is now retired but always a sweetheart. She is now lives with our very good friend Jez and is living the life of a princess.
​​​​​
CH JD's Mary​ Heavenly Princess ~ Molly



Our precious Molly was our very first Havanese and the reason we fell head over heals in love with the breed. She was everything we were looking for... well balanced, non-shedding, not yappy, happy and social, a little lap dog who loved to go everywhere with us. She was suppose to be our foundation, however, after two litters we discovered that there were health problems among some of her relatives. Molly and her children were all healthy, however, we just didn't want to take the risk of what may be lurking behind her pedigree, so we decided to start over. Molly retired and remained part of the family for several years. Eventually we decided Tony's parents could use a good therapy dog so she went to live with them. Molly lived a perfect life until her final moments.  She sadly left this life and moved on to heaven on 1-3-19 at over 16 years old.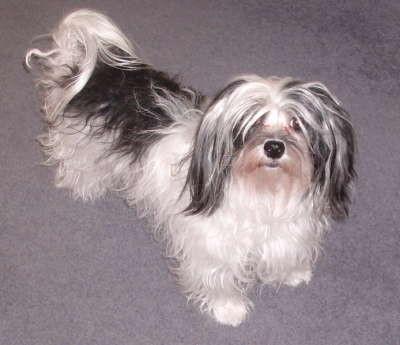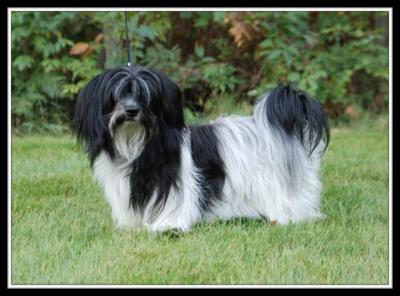 ​​​​​​
Jr CH Selah Old World Elegance ~ Queen Anne



Queen Anne is a Trista/Harley daughter, from Trista's first litter and the only Trista puppy we kept, but she has three beautiful daughters who will help carry on Trista's line.  She has lived up to her name, pure elegance and assured confidence of royalty.  She has been a pure delight to have in our home and has been an absolutely fabulous producer of 'carbon copy' puppies.  Each and every one of her puppies have her lovely temperament, robust good health, and sheer beauty.  In all of her regality, we do sometimes call her Queen Annie, but we NEVER just call her Annie... how degrading. :)  Queen Anne has retired and is living a life of luxury as Grandma's constant companion.   Since grandma lives with us, Queen Anne remains a member of our household.
​​​​
Queen Anne and her Daughters:
 Queen Anne, Joy, Meekah and Mercy

Four beauties, four sweet babies.  Queen Anne being the matriarch of the group, but closely followed by her lovely daughters who follow in her pawprints in looks and temperament, making wonderful therapy dogs and perfect companions.  These beauties are VERY smart, compassionate, and greatly desire to comfort their humans.  Slight differences can also be seen, Queen Anne is very regal, Joy fits her name is is full of compassion and happiness, Meekah is very calm and gentle and loving and Mercy, the baby of the family, is the typical happy go lucky, I just want to make you laugh, but she still maintains the absolute desire to comfort her people.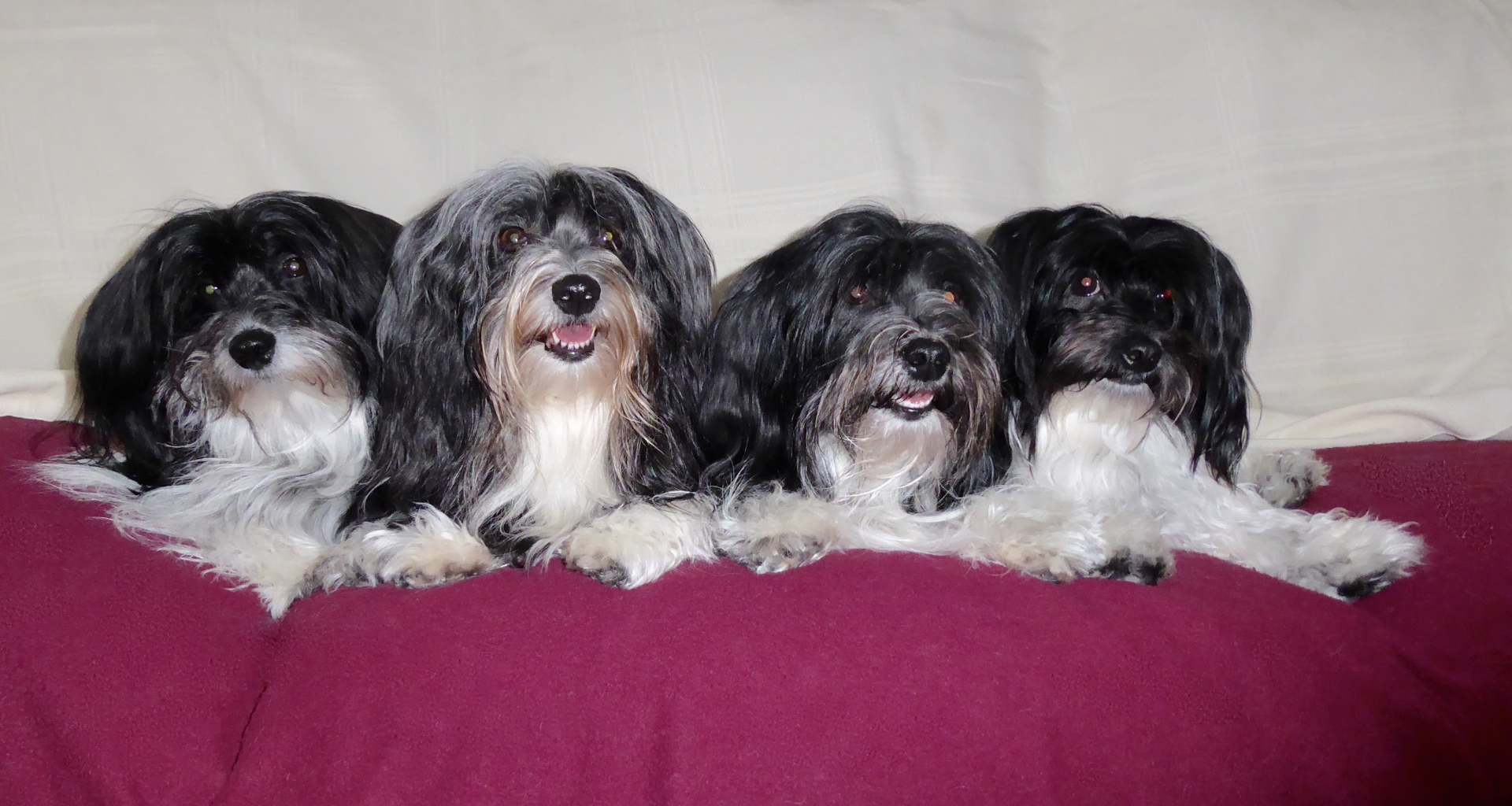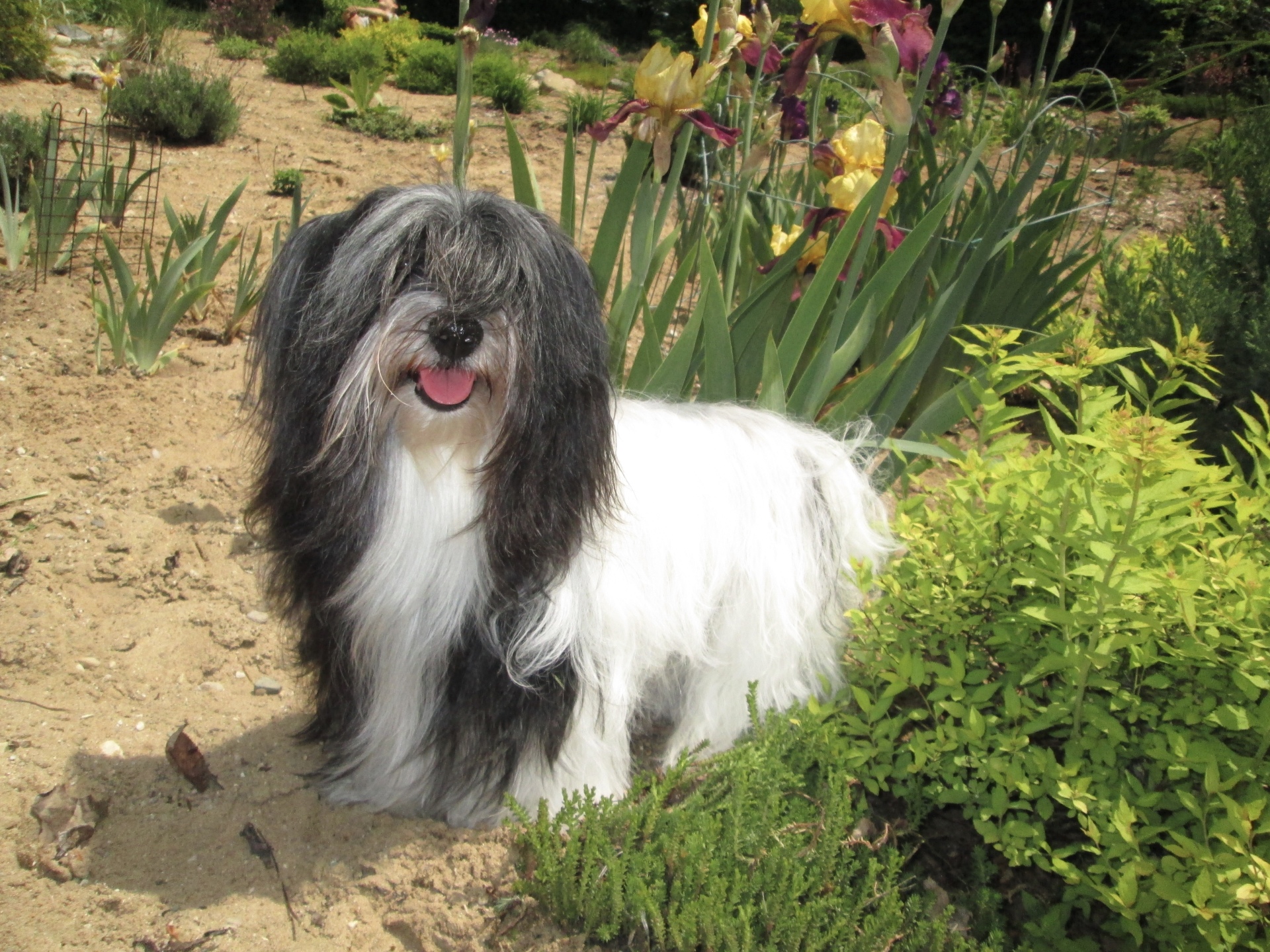 Selah Perpetual Happiness ~ Joy


Joy lives up to her name, she is full of so much love and happiness, she is very confident and also very attentive to her people, always desiring to bring them happiness and comfort.  Just at the time Joy was going to start her show career she sustained an injury falling off the grooming  table, resulting in tearing both her acl and requiring several months of crate rest to help them heal.  After this, we decided that Joy will live her days as a beloved pet and not enter the show ring. Joy had two litters and is now retired from breeding.  Her daughter Ivy will now carry on her joy for life into the next generation.  We are thrilled with the lovely puppies Joy had and thankful we were able to keep her beautiful Ivy.      Joy has more love inside her than we thought was possible.  ​We generally call her Joy Joy, as it makes her so happy and her tail just wags and wags.  Joy now brings daily Joy and happiness to my Aunt.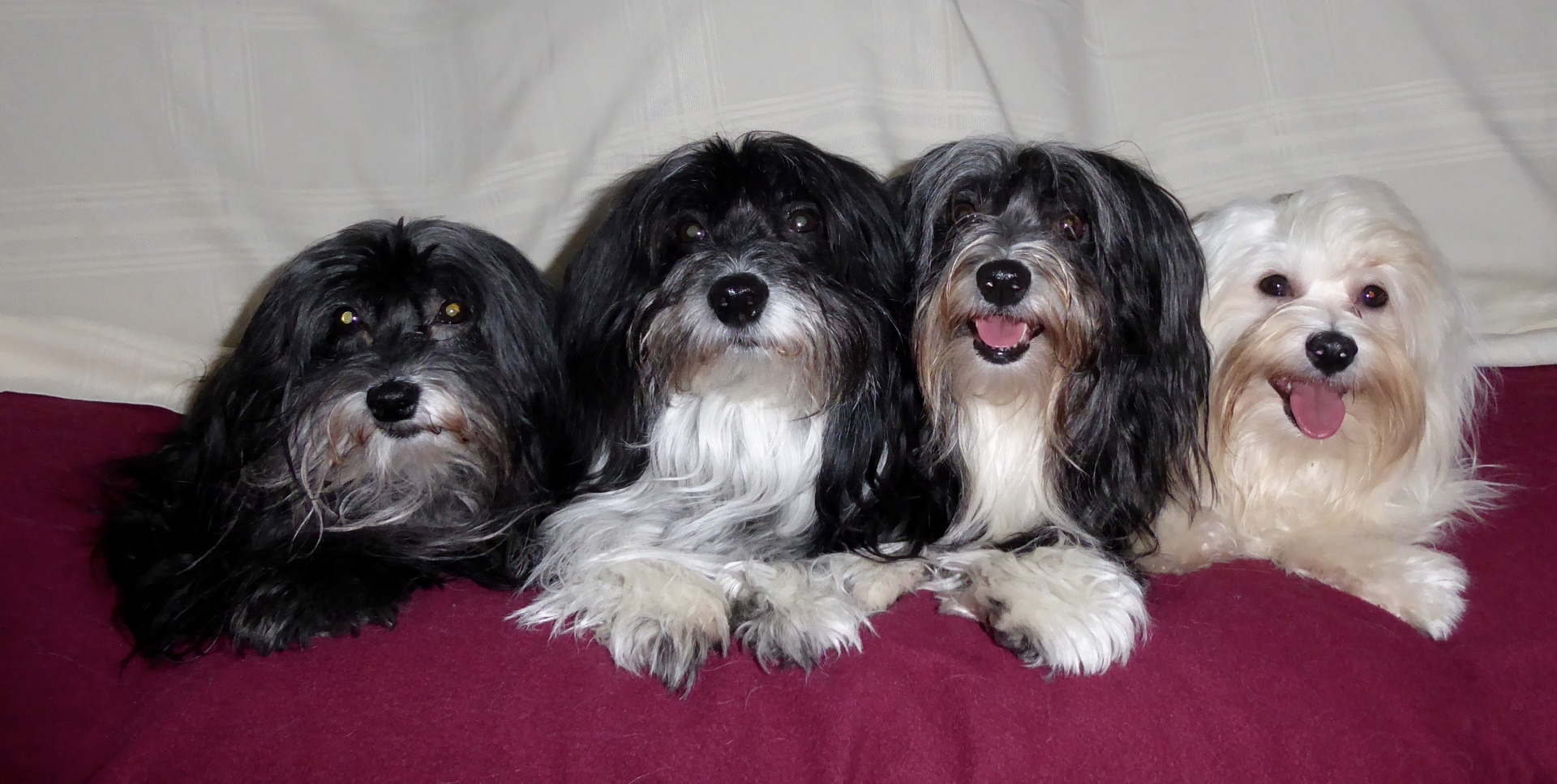 ​​​
Four generations:  Trista, Queen Anne, Joy, Ivy

Pure LOVE!!!  We are so proud of these girls.  They are not only beautiful, they are so full of love and their desire to comfort and bring happiness never stops.   On top of all this, they are smart, and can learn just about anything and are willing and able to take on any new trick you bring at them. These girls bring great joy to our hearts and life.  We now have added a 5th generation... our sweet Lacey!



​​​​
CH Selah Breath of Heaven ~ Pneuma



Pneuma (New-ma) is the daughter of Jewel and Harley.  She is our only keeper pup to carry on Jewel's line.  Pneuma is a breath of fresh air, having all the silliness and laid back attitude of her mom.  Pneuma is often called Pneumie (new-me). She is very easy to live with and is a pleasure to have around.  Pneuma is a wonderful companion for my developmentally disabled daughter, giving great patience and compassion. She makes an excellent sleeping partner for her and helps bring cheer when she isn't feeling well or is having a hard day.  Pneuma truly is a 'Happy Puppy', which is what my daughter calls black and white puppies, which are her very favorite, and Pneuma is her favorite of all.  Pneuma is retired from breeding but remains my daughters constant companion.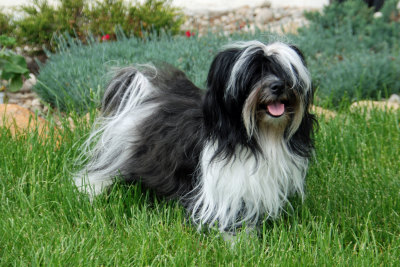 ​

SElah
Selah Pearls of Grace ~ Pearl
Pearl is our much loved daughter of Pneuma  and granddaughter of Jewel.  Drew is her daddy.  She is a very special little girl and has stolen all of our hearts with her silly little antics.  She is a  happy little girl who loves to spin and do circles and dance for us in all of her excitement.  By this she has earned herself the nickname, Whirly, or Whirly Bop, or Pearlie Whirl, a dog of many names and a personality just as big.  We simply adore her sweet little antics and how she makes us laugh.  Pearl has no intention of climbing the doggie ladder, as a matter of fact, she doesn't even know one exists.  Her primary goal in life is to love her humans.  She is a little lap dog and loves to snuggle in our laps.  She loves to go 'bye bye' and will whirl around with excitement any time we go to the door asking if she can go too. When we pack the suitcase to go on a trip, she tries to pack herself inside it!   Pearl remains my ever constant companion, puppy socializer and travel buddy.  Pearl has also now been trained as a medical allert dog due to my developing hemipolegic migraines.  She, and her granddaughter Nahanni, have been amazingly attentive to this condition and have a natural ability to know exactly how to handle my medical needs.  Pearl is the primary currently, but once Nahanni is a bit older she will take over when Pearl 'retires', the transtiion timing should be just about perfect.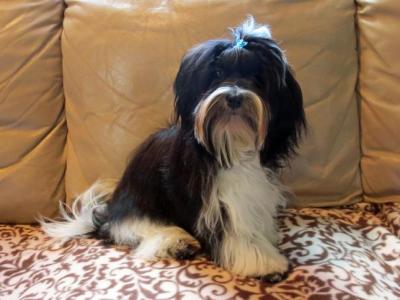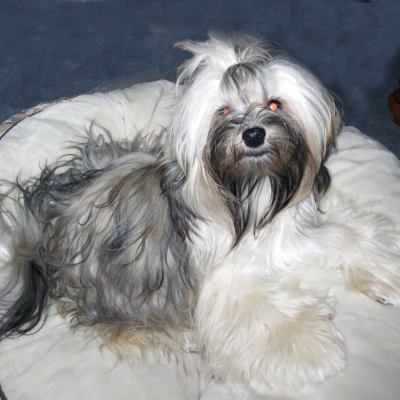 Selah Aloha Dreams ~ Maui
Maui is the daughter of Melody and Zuri.  She is a very sweet and affectionate little girl who is the epitome of a Havanese.  A little quirky and full of great love, she brings our family much joy on a daily basis.  While being on the smaller side, she is sturdy and full of life and fun.  She is often called Mow-way Mow-way or Maui Kajowi.  Maui is happy on our lap or by our feet.    She can be a silly little clown and loves to pounce on her toys, but rarely actually chews on them unless it is a bone. She is a gentle natured little girl and a complete joy.  Maui loves to be our visitor greeter and immediately welcomes everyone into our home and makes them feel special.  Maui remains our families constant companion.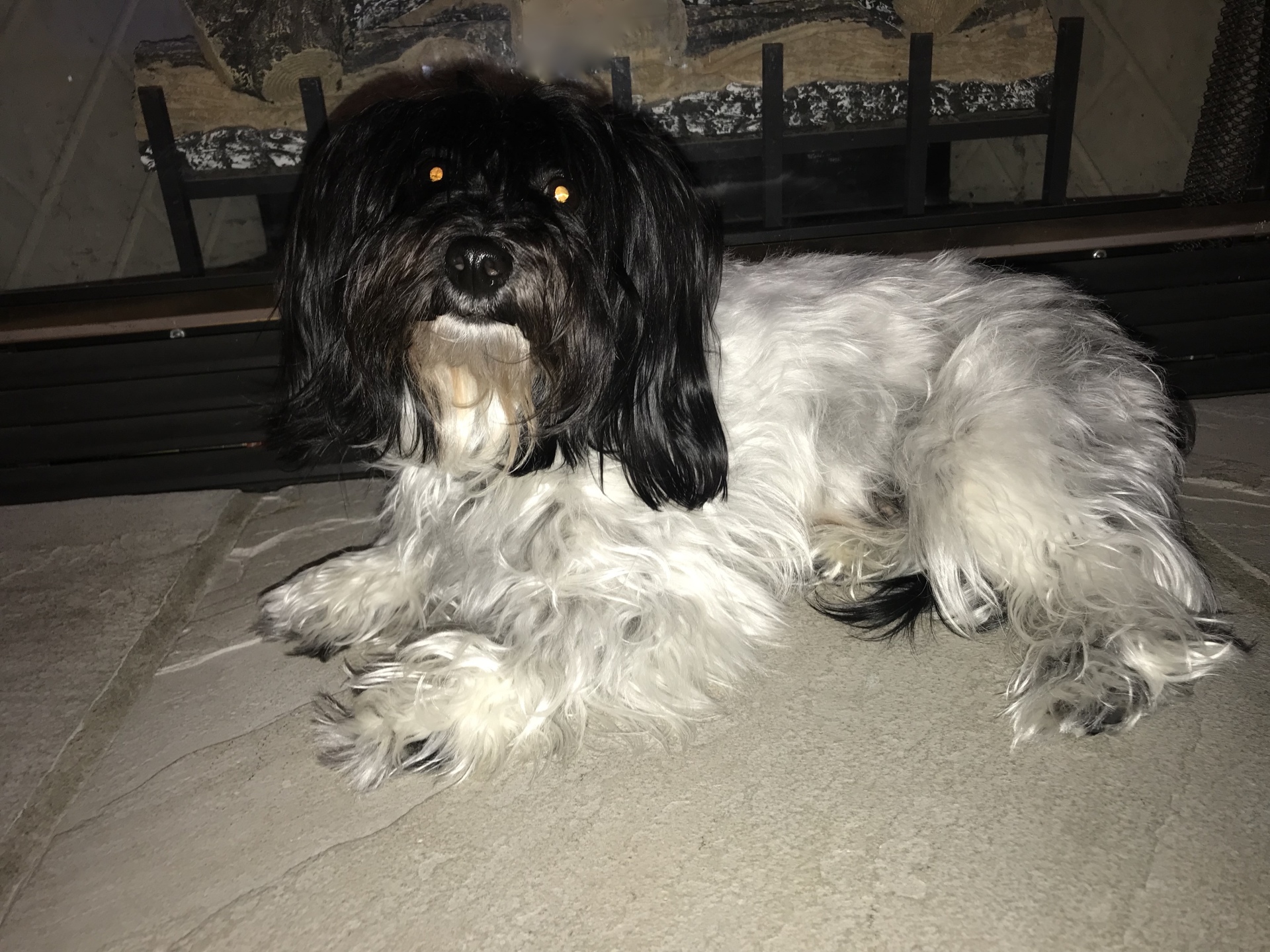 ​​​
Selah You Are Not Alone ~ Mercy
Mercy is a Queen Anne x Drew daughte and mom of our River.  She is our little miracle puppy.  Her litter was born a week premature, and yet she was spared and thrived.  She arrived as a blessing and has continued to this day to be a complete blessing to our family. She is pure happiness, loves everyone and everything.  The world is hers and she knows it!! Mercy earned the name Mercilicious early on, as she is just so adorable, she's delicious! We cannot begin to describe the life that flows from Mercy, but she simply radiates a love for life, and everyone who crosses her path is filled with a happiness that she simply cannot contain.  Mercy will forever and always be my sweet little girl and be our constant companion.




​​​
Selah Meekness and Majesty ~ Meekah
Meekah is the granddaughter of Trista, Daughter of Queen Anne and Drew.  She is a very mild natured.  She is not extreme in any manner.  She is non-demanding and easy going.  She is very happy and smiles as she is excited. Being regal like her mama Queen Anne, there is no silly nicknames for Meekah, she joyfully comes to Meekah Baby, but would not subject herself to any inferior name, that is for sure.  She is very thoughtful, smart and attentive, there is no need to lower herself to names below her high calling. 

Meekah would make an excellent show dog, but her nature is so gentle, she does not enjoy the experience, so she remains at home. She does however enjoy outings with the family and just about anything we do.  In addition to being a very unassuming family companion, she makes an excellent puppy nanny. From the time she was under a year old she loves helping raise our puppies.  Even before she ever had a litter of her own, she has helped to raise  puppies by keeping them clean, warm, and loved.  Given her gentle nature, the other moms never complain about her help.  Meekah is a very special girl and excels as a therapy dog with the elderly and with special needs children.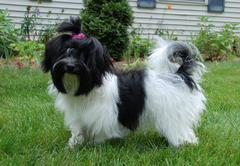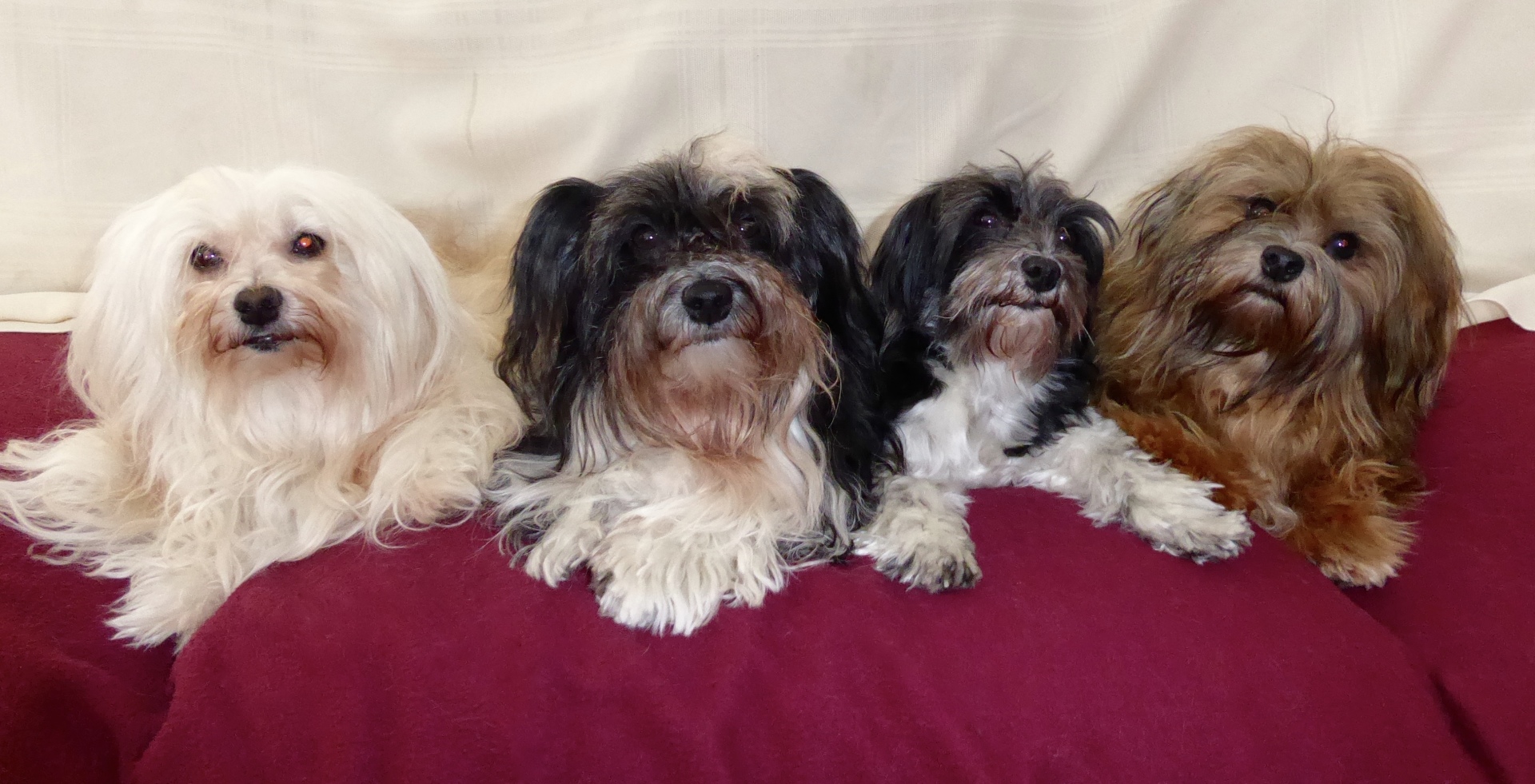 ​​
Four generations:  Jewel, Pneuma, Pearl, Denali

Nothing like a family of silly, snuggly, easygoing, little love bugs to fill your day with smiles.  We are so very happy and pleased with these beautiful girls.  They are wonderful companions, great moms, and perfect family members.  The manner in which they take life in stride is inspiring and brings a calm to those who are blessed enough to love them.  We have now added a 5th generation... our sweet Nahanni!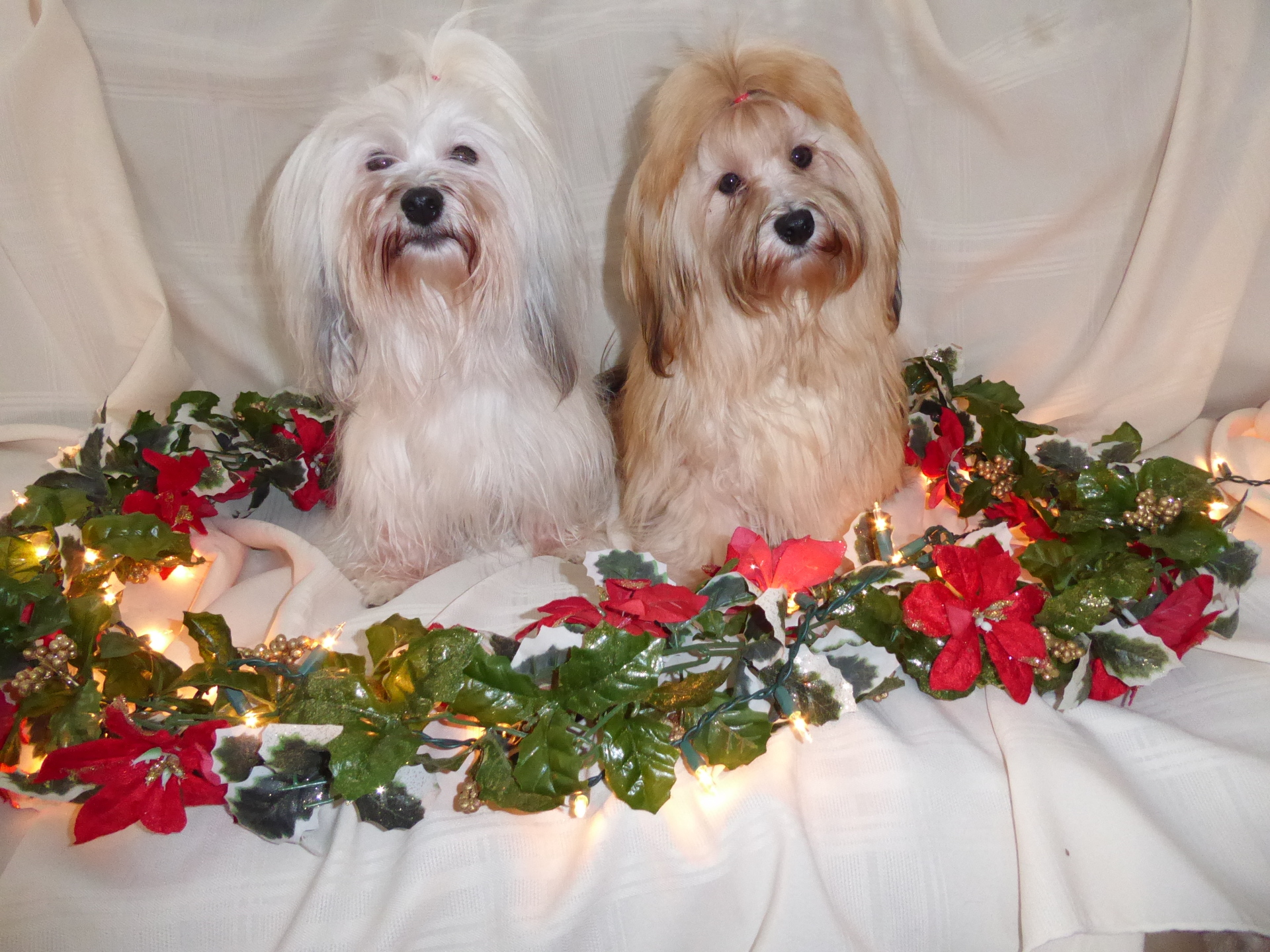 ​​
CH Selah Perfect Harmony ~ Harmony
Selah  Finalé on Rouge ~ Zadie



Harmony is the daughter of Melody and Ruger.  Her nickname is Harmie. Harmony is the beloved 'kid' of my daughter Lizzie, and is a very spoiled and pampered pooch indeed.  Harmony loved the show ring and really shined as she loved to show off and prance around.  She easily earned her Championship.  As a puppy Harmony was quite a spicy little girl, which helped in the show ring. As an adult she is very sweet and smart, but still maintains a bit of spice. Zadie is Harmony's daughter and Lizzie's other special love. Lizzie has fun teaching them new silly tricks and loves Harmony like a child.  Zadie is the daughter of Harmony, and Lizzie's other 'girl'.  Zadie has been removed from our breeding program due to having a broken leg as a puppy that didn't heal correctly after surgery, so rather than risk it being painful to carry puppies, we decided she will remain a cherished pet without having puppies.
​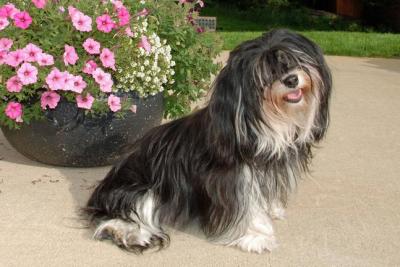 Selah Lyrics in Motion ~ Lyric




Lyric is a very sweet and snuggly little girl.  The show ring was not for her, as her greatest desire is to sit and snuggle on someones lap.  Lyric is full of love and likes to share it with everyone.  She is a happy girl and enjoys a bit of playfulness.  Lyric had two litters and we were blessed with our Echo and our good friends have Fayanna.  Lyric is now retired and happily is the princess living with the Dayton family, along with three of our other pups, including her full sister who looks just like her.  While we miss her terribly, we are thrilled that she has a wonderful life, is loved and is sharing her love with her forever family. Sometimes things are just suppose to happen and Lyric's forever family picked her out when she was just a weeeee pup and staying here as our keeper, but they were persistent in wanting to add this sweet girl to their family and their patience paid off in Happily Every After.  Lyric's daughter Echo never had any babies, as she was just not interested and we never force our girls to have babies, so she has now joined her mama and they will get to live their adventures together.  We couldn't be happier!
​​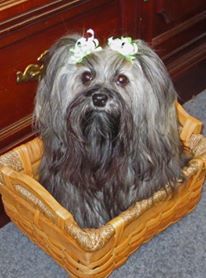 Selah Whispering in the Wind ~ Echo
Echo is the daughter of Lyric.  She is silly, sassy and such a love.  We were hoping to make her a part of our breeding program, however, she just wan't interested in having babies. Since we never force our girls to have babies and she never developed any interest in four years, we allowed her to retire without having babies. The home of Lyric fell in love with her when they came to pick up Lyric and begged to also take Echo.  Eventually, with great sadness we agreed.  Echo is now living a wonderful life with her mama Lyric and several other Selah pups and couldn't be more loved.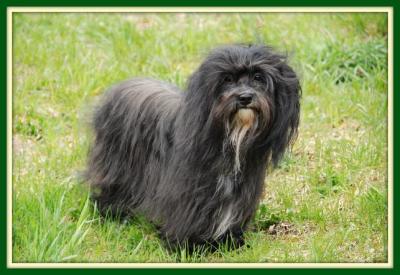 CH Tehas Miss Jane Marple ~ Kaili
Kaili joined our family as an adult, had two lovely litters with us, then retired and went on to live life in a retirement home where she is the only dog with a retired mom.  She is loved and doted on and a very spoiled little girl.  She has a very sweet nature and really needed individual attention and love and is thriving.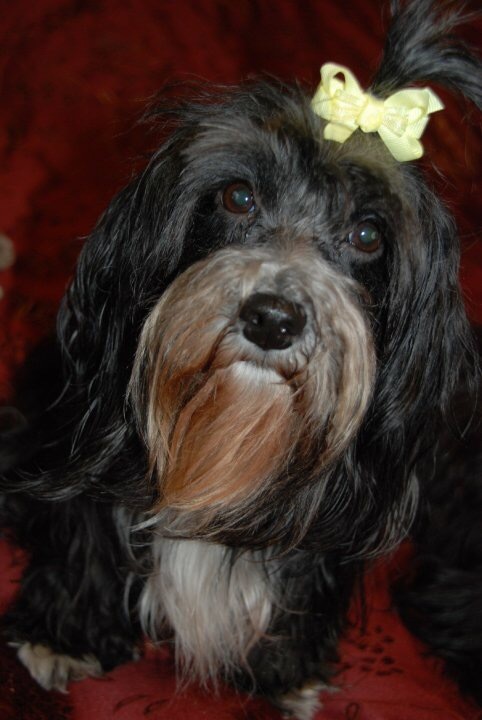 CH Tehas Sedoso Havana Daydreaming ~ DeeDee
DeeDee came to our family as an adult and had two lovely litters with us before she retired.  She went to spend the weekend with friends while we were out of town, took up residence and decided this is where she wanted to spend her retirement. She was loved by her family and lived to be 13 years old.  She is greatly missed.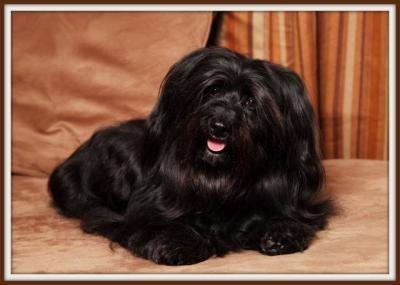 ​​​
CH Bydand Rolling Thunder At Selah ~ Harley



Harley was our very first male.  He is the very sweetest boy, has a lovely silky coat that never tangles (don't I wish everyone had this coat!). He is very easy going and adaptable.  Not only does he have great health behind him, his sire was also the #1 Havanese and Eukanuba winner.  Harley has such a sweet temperament he didn't love showing, however he easily finished his Championship and as a 'veteran' has entered the ring with my son Michael, just for fun, and won BOS several times and Best Veteran and Select Dog at some Havanese specialties.   Harley is the sire, grandsire or great-grandsire to most of our puppies.  Harley is the much loved companion of my son Alex, who loves to take him fishing boating and my son Michael who has been enjoying learning basic dog training with Harley.  Harley is such a great dog! Almost all of our puppies go back to the amazing Harley.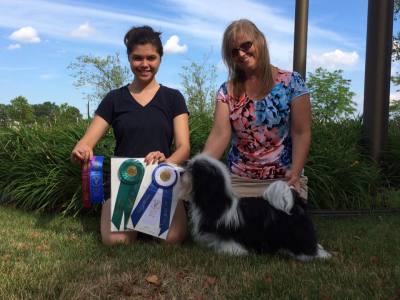 ​​
AKC CH, CKC GCH Selah Leavin N Impression ~ Aspen




Aspen is the son of Davino and Pneuma.  He is a very handsome boy and won is first AKC 4pt major and a Group 2 his first weekend I showed him.    He is now owned and loved by Brian Scott of Weylinmarsh Havanese.  Aspen is a Canadian Grand Champion and top 5 Havanese for 2017 and 2018.  He is also an AKC Champion showing only two weekends.  He did amazing in the ring in both the US and Canada. He is now retired from showing and is now starting his breeding career.  We are excited to someday welcome an Aspen pup back into our breeding program!
​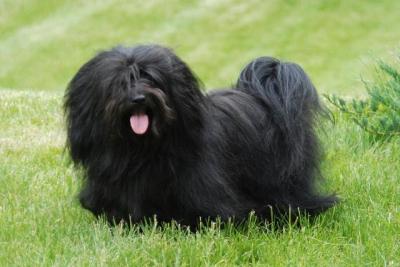 ​​​
JR CH Selah Shoot Em Up At El Rey ~ Ruger



Ruger is a Trista/Harely son, and is a sweet boy, just like his daddy Harley.  He is the sire of Harmony, Lyric and Mateo and grandsire of River and Nahanni.  He is owned and loved by our dear friends Maishelle and Allison.  Ruger is now retired from breeding, but will always be their beloved companion. Ruger's genes will now be passed down through his son Mateo and hopefully someday a Mateo son..
​
​​​
Limited Edition of Velvet Dreams ~ Armani




Armani was imported to the US by myself and my friends Maishelle and Rita.  He is the litter brother of Zuri.  Armani had limited showing and just didn't enjoy it.  Armani had one litter with our lovely Pneuma. It was mutually decided it would be best for Armani to  live with a friend of ours as her therapy dog.  He is now her devoted companion and is a treasure which she adores each and every day.  He has helped to brighten her days and brings her much love and joy. She thinks he is the very best dog ever, as he is so very sweet and loving and attentive to her needs. They were simply made for each other! Armani is retired from breeding.
​